Easy, Efficient & Affordable
Business Set up in UAE
Company Formation Dubai
Thanks to this globalized era clubbed with the modern advancement of communication and technology; the world has become a village, an opening window of opportunities to every SME, start-up, foreign companies branching out to the international market, etc. You can easily get a strong footing globally and readily enter the MENA market. Due to the United Arab Emirate's favorable economic and political conditions, it is one of the most strategically sound and beneficial marketplaces.

Dubai has attracted a large number of foreign investment and entrepreneurs. While the regulations favour enterprises and foster economic growth, business setup Dubai or setting up a business in UAE is no laughing matter. With a slew of time-consuming procedures that might eat up your time, effort, and money, you are researching and learning the rules, keeping up with them, filing the necessary paperwork, acquiring visas, selecting a zone, registering etc. It would be best to get professional consultants and specialists of Freezoner who are from the region, constantly updated with the laws, specialised in this field and speak local tongue and English and is well renowned in this field. Easily guide you and provide hassle-free business setup services in Dubai and the UAE.

Freezoner is an award-winning business setup consultancy services in UAE that helps investors set up business most cost-effectively and efficiently. Business setup services in UAE that suit every stage of your business journey. Company setup in UAE is a process that starts with identifying the correct legal form, from free zone, onshore, offshore company formation, then choosing the right activity, and finally searching for the right government agency that matches your requirements. No need to worry about endless government paperwork and queues. Our mission is to save you money and effort by implementing single window solutions for our clients. If you are wondering how to start a business in Dubai, UAE all you need is to ask for your free consultation today!!

Our Business Setup Services
VIEW ALL SERVICES
Why You Should Set up Your Business in Dubai

Zero Tax
In these tax havens of UAE, where there are no direct taxes, register a company, and the profit is all yours! Now make money to make some more. Get in touch for further inquiry.
100% Ownership
Let your dreams be completely yours with full ownership and sole proprietorship of your Business.
Easy Banking
Easy to open bank accounts in corporate banks and easy managing accounts.

Favourable Policies
The UAE government encourages new businesses by facilitating trade links within the domestic and the international market. You can get your company registered and started in a matter of weeks.

Positive Economic Growth
Dubai's rapidly accelerating economy thanks to pan sector like logistics, commerce, tourism etc. in the market that contributed to making Dubai one of the fastest-growing economies in the world.

Global Market Infrastructure
Also known as the link between the east and the west, setting up a business in Dubai is setting a strong foot in an international market with access to over a billion consumers across Africa, West Asia, Eastern Europe and the neighbouring Middle Eastern countries.

Infrastructure
The city's infrastructure is ultra-modern and futuristic, keeping up with the ever-changing transportation and communication technologies.

Workforce
Easily available workforce and labour with skillset from around the world.

Standard of Living
The standard of living in Dubai also makes it a desirable place to set up your Business.
Additional Company Formation Services
How Does the Procedure Work?
1. Get in Touch

2. Let's Have a Detailed Conversation

3. Agreed Advance Payment


4. Filing of Documents and Other Submissions


5. Setup your Business

What Makes us the Best Business Consultancy Firm

Experienced Professionals
With years of expertise in our kitty, our specialists and business consultants offer a wide range of services that helps you understand the market, register your company, and put in touch with the right people. We offer all the benefits that help with strong Limited Liability Company formation in Dubai and maintaining a smooth operation.

Customer Oriented
Each client is dealt with the same level of professionalism, and their work is our priority. We provide consumer-oriented service to incorporate their needs and requirements, and we don't believe in the unbiased scheduling of projects based on size. Your dreams are our goals!

Budget Friendly
We ensure that you are not misguided; after understanding your plan, we give you a budget that would be cost-efficient depending on the zones of functioning, either you want to set up your company in
Dubai free zone
or you want a
business setup in Dubai Mainland
.

Tailored Packages
We offer a wide range of services depending on your requirements providing unique solutions to unique conditions.

Reliability
We don't woo our clients with words but our actions. We believe in transparency, honesty and doing our job right. Freezoner takes pride in holding a reputable and reliable name in the market and that's our achievement.
Certificate of appreciation in 2021 by Khalifa Industrial Zone, Abu Dhabi (KIZAD)

As a new record, Freezoner held a certificate of appreciation towards the exerted efforts in creating possibilities for clients. The award was presented by Khalifa Industrial Zone, Abu Dhabi (KIZAD) in recognition to our participation.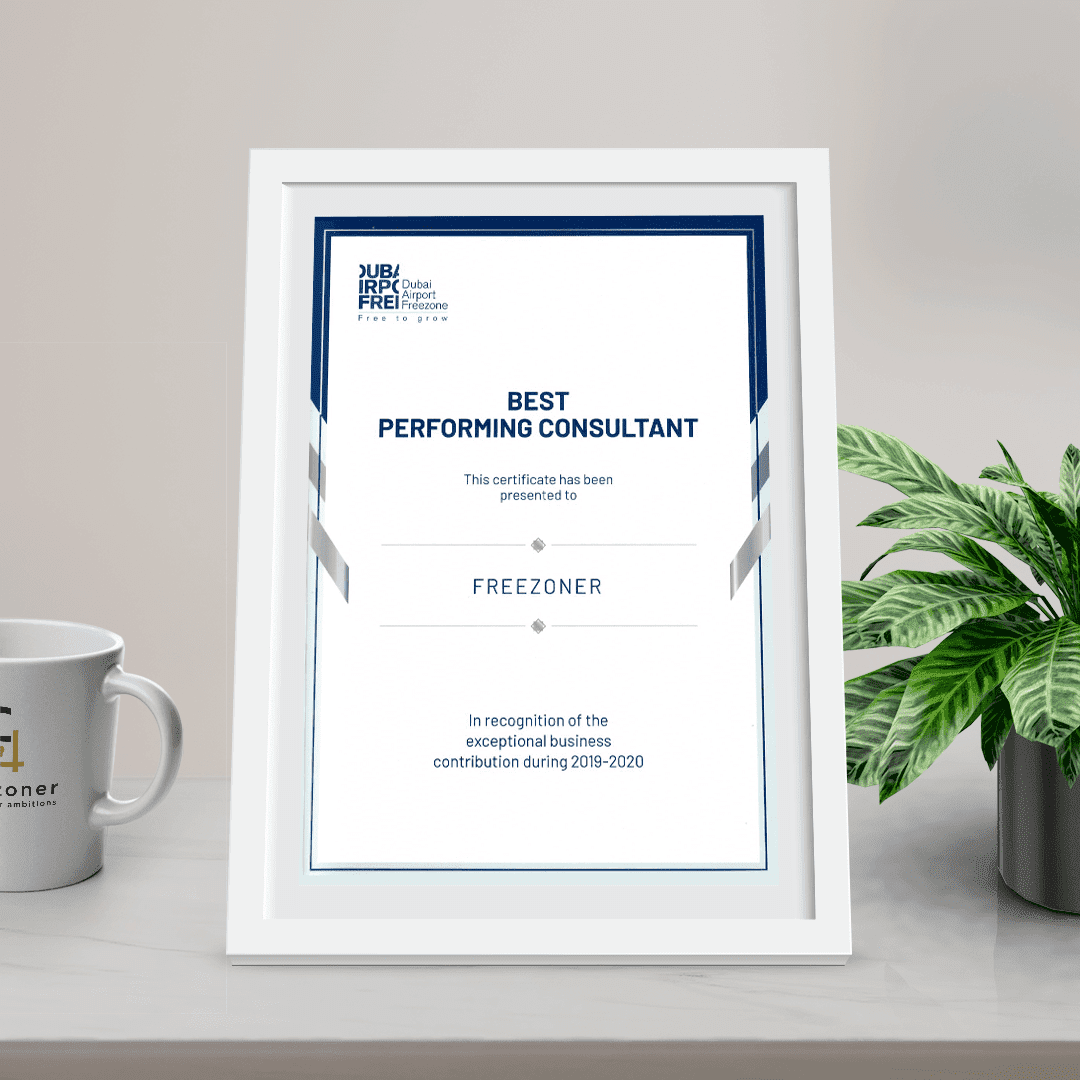 Best Performing Consultant
by Dubai Airport Free zone Authority 2020

Once again, Freezoner has been recognized as the best business setup consultant in the UAE by the government of Dubai. The award was presented by the Dubai Airport Free Zone Authority "DAFZA" in recognition of our efforts during the year of the epidemic 2020.

Best Performing Consultant by Government of Ras Alkhaima 2019
Freezoner has been recognized as the best business setup consultant in the UAE by the government of Ras Alkhaima 2019. The award was presented by "Rakez"